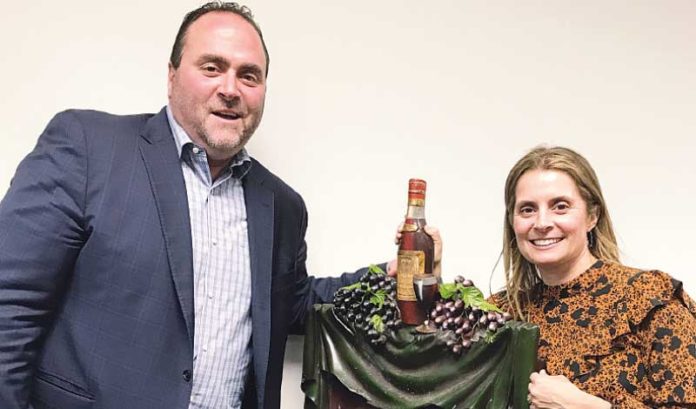 (Editor's Note: This story was published prior to the coronavirus outbreak and social distancing measures.)
All who attended the Association of Corporate Growth-New Jersey "field trip" at the Opici Family Wine Distribution Center in Glen Rock, including the "Food Fella," had nothing but raves for this exceptional evening.
The association helps to drive key business connections and opportunities for middle management to C-suite-level executives through its membership program, and it strives to provide members unique educational and networking opportunities. This was very evident at the Opici headquarters and main distribution facility in Bergen County, as more than 75 members enjoyed wine tastings, compliments of the Opici family, and learned a bit more about the wine distribution industry and the various businesses connected to it. We all now have a favorite Opici wine to look forward to, although all three flights we tasted were spectacular!
The Opici family has a long, rich history in the wine business, and for nearly a century, the company has remained family-owned and -operated, now under the fourth-generation leadership of Dina Opici. She and George Palmeri gave the attendees an education both in head knowledge and firsthand tasting experience of some of their most popular wines from Italy, France, California and Argentina.
The facility in Glen Rock is a 200,000-square-foot, temperature-controlled warehouse with offices just off Route 208.
Over the years, Opici has grown beyond New Jersey to a total of seven locations, including New York, Connecticut, Washington, D.C., Maryland, Delaware and Florida. It distributes over 1,400 spirits, wine, sparkling and RTD brands, representing 47 countries around the world and a portfolio represented in 50 states through a national distributor network.
I asked Dina Opici a few questions to get more insight into the business:
ROI-NJ: What are some of the trends you see in wine and liquor for retailers?
Dina Opici: Over the past two years, we've seen a resurgence of rosé wines, and no longer are they just enjoyed as a summer wine. … We are also seeing a focus on healthier choices, with more requests for beverages with lower alcohol content and more options like organic and natural beverages, all items we've been carrying and adding to our portfolio that make sense.
ROI: What makes New Jersey an attractive location to stay in?
DO: Well, after 85 years in the business with our roots here in New Jersey, we still believe that so much opportunity to grow our business is centered here, and we want to continue to operate and grow as a New Jersey-based company, much like my grandfather, Hubert Opici, envisioned many years ago when he was in charge.
ROI: How was business for Opici this past 2019, and how do you deal with some of the discounters like a Trader Joe's who famously sell the 'two-buck Chuck' wines?
DO: Well, last year was a good year for Opici, probably one of our better years within the past decade, which we are very thankful for, and, despite some of the challenges from either our industry or ourselves, our team here worked so hard to help get us there. … As far as the lower-price wine options at discounters like Trader Joe's and others, we look at them as opportunities, first, because we do some bottling and private label wines for these retailers, and, secondly, we feel that, as the younger generations graduate from less-expensive options to a better quality wine, we'll have the chance to sell them our higher-quality, higher-price wine selections to enjoy.
Great event and evening by both ACG NJ and the Opici Family Wine Distribution Co., and thank you, Dina Opici, for hosting the ACG and sharing what has made your company a success all these years!
Conversation Starter
Check out acg.org/nj for more about ACG NJ memberships and opici.com for more about wine.
By Damon Riccio (New Jersey) Read full article